K2 CHALLENGE | 4MPH OR OUT!
Date and Time:
Sunday April 9, 2017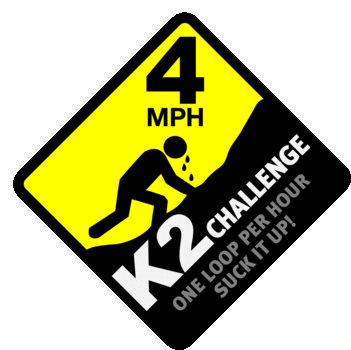 6am - 12pm
Location and Parking
150 California 193
Auburn, CA 95603
**Hwy. 49, near the confluence. 1/4 mile up from the green gate #150**
Pictures to Parking Location and Start.
Timed Event
6 Hour Event – 4 miles per loop – 1 loop per hour or out!
Distance & Elevation
4 miles per loop – 1200'~ per loop (1k' in .9mi)
Information: Are you doing any Ultra distance events this year? - Then this is your training event!
There is no better way to test out any nutrition, shoes, gear, or even practice your pit stops with your crew than in a very controlled environment. This 6hr event will keep you on your toes by climbing 1,000 feet in .9 miles and descending a total of 1,200 feet in 3 miles.
This training event starts on the Western States trail near the confluence the American River. Runners will start promptly at 6am towards the base of K2 (aka; Training Hill),once at the bottom of K2 runners will follow the trail up towards the Omstead loop to then connect to the Western States Trail to drop down again towards the start. This is a 4 mile loop. Runners will continue that loop for a total of 6hrs.
Runners must complete a minimum of 3 loops to receive finishers award.
Full aid station at the end of each loop. Crews are only allowed to help runners at Start/Finish of each loop.
As always we will meet at knee Deep brewery after the event where we will buy you the first pint. 
There is no 1st, 2nd or 3rd place for this event. But the runner with the most number of loops will receive a special award.
Weather Forecast

Rules
Runners must complete one loop per hour or they are disqualified. 
Only laps finished within the 6hrs will count towards the total number of loops finished. 
Poles are allowed.