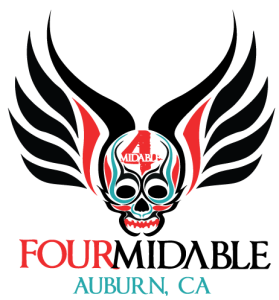 Date:
February 17, 2018 
8:00 am (50K )
Location:
Overlook Park, Auburn CA
855 Pacific Ave,
Auburn, CA 95603
NEED A PLACE TO STAY IN AUBURN?
Use the link below, or mention the SingleTrack Running block when calling.
Course information:
Come and participate in one of the most challenging 50K in the Auburn/Cool area. This event has a total accumulative climbing of over 6,000 feet in the 50K.
The name FOURmidable comes from the four major climbs along the course. The 50K runners will start by going down to the river, to then climb back up by using Cardiac hill. After the 5 mile loop runners will reach Gate 142 AS (start area); after getting the hydration and calories they need, runners will run towards the famous No Hands Bridge on their way out and climb up  K2 (aka-Training hill) towards the top of Knickerbocker Canyon  to then descend all the way down to the river. At which moment runners will be right on the other side of the American River canyon which can be seen from the START area. Runners will then climb up the switchbacks back to the Knickerbocker AS to then cross Knickerbocker creek on their way towards Cool AS and then follow the Western States trail towards No Hands AS and on their way up to the finish.
FOUR hills:
K2 (AKA Training Hill)
Knickerbocker (Old Auburn Dam Site)
Overlook hill
Cardiac hill
Less than half mile of road on any distance.
Packet pick up
Packet pick will occur the day before the event from 12 to 6pm at Auburn Running Company. 
Race Morning
ALL RUNNERS MUST CHECK IN RACE MORNING!
If you have picked up your bib the day prior, you MUST check in race morning. Failure to check in will result in a DNS. 
Morning check in will start at 7:00am to 7:45am. 
Parking
Main parking at Auburn Dam Overlook park (ADO). Extra parking is available on Pacific ave. If you park on the Western States equestrian parking lot, please follow their rules posted at the entrance. 
$$ PRIZE INFO $$
Total $5,000 prize money will be awarded as following:
Male
1. Place - $1,000
2.Place - $700
3.Place - $500
4.Place - $200
5.Place - $100
Female
1. Place - $1,000
2.Place - $700
3.Place - $500
4.Place - $200
5.Place - $100
$$ COURSE RECORD $$
An extra $500 will be awarded to the first runner who breaks the current course record in each gender. 
Male: Max King - 3:32:36hrs - 2017
Female: Yiou Wang - 4:18:08hrs - 2017
FINISHER & AGE GROUP AWARDS
All finisher's of the 50K will receive a finisher's award. 
Age group awards will be presented only to the top place in each of the following age groups. 
19 years old and under
20 to 29 years old
30 to 39 years old
40 to 49 years old
50 to 59 years old
60 to 69 years old
70 + 
SPECTATORS
Six aid stations are provided along the course, 50K runners seeing them a combined seven times.  While most AS have vehicle access, spectators are only allowed at Gate 142 AS (near ADO), No Hands AS, Cool AS (day/year pass required).
50K Aid station table:
Strava shows a total of 5,947 feet of climbing on this course. Mapped with Garmin 220.
Subject to variations between other runners and any other form of measurement. 

AID STATIONS:
Aid stations will supply water, electrolyte drink, gels, salt tablets, soda, some snacks, and of course, boiled potatoes.
| | | | | |
| --- | --- | --- | --- | --- |
| Aid Station | Mile | Next Aid | Spectators | Cutoff |
| Start at the Overlook Park | 0 | 5.4 | YES | ---- |
| Gate 142 AS | 5.4 | 4.2 | YES (Walk in) | ---- |
| No Hands AS | 9.6 | 3.8 | YES (Walk in) | ---- |
| Knickerbocker AS | 13.4 | 4.6 | NO | 11:38am (16 minute/mile) |
| Knickerbocker AS | 18.0 | 5.4 | NO | 1:00pm (16:28 minute/mile) |
| Cool AS | 23.4 | 3.8 | YES (Day/Year pass required) | 2:30pm (16:30 minute/mile) |
| No Hands AS | 27.2 | 4.0 | YES (Walk in) | 3:40pm (16:47 minute/mile) |
| 50K Finish | 31.2 |   | YES |   |